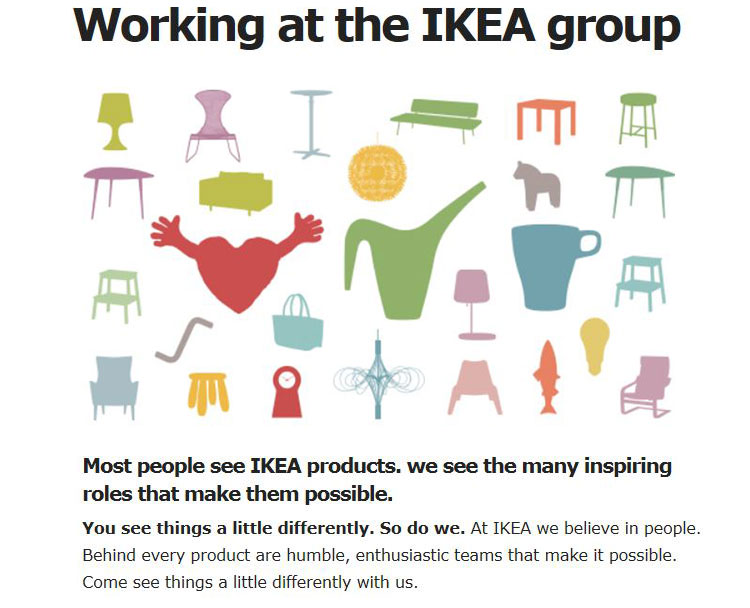 We have one common vision at the IKEA Group: To create a better everyday life for the many people.
With over 700 million visitors to our stores and over 1 billion visitors to our website every year, we take our vision very seriously.
When you work with us, you will join a diverse group of co-workers in 43 countries who value working together.
Since IKEA has been founded over seven decades ago in Sweden, our core values have not changed. No matter where you work, you will be part of an open and inclusive culture in which you can be yourself.We believe in mutual respect and want everyone to feel welcomed to contribute with their unique experiences and ideas.We are a group of straightforward and concrete people, very different from one another sharing a common passion for furniture. We come from all over the world, but we have the same goal: "To create a better everyday life for the majority of people." At IKEA, we always do our jobs knowing that we can achieve great things when many people work together.
We also want to have a positive impact on people and the planet: Sustainability is a natural part of our everyday work at IKEA. We are working on tackling climate change, conserving natural resources and enabling millions of customers to live more sustainably at home. It is a challenge that inspires and drives us.
With everyone's contribution, we are already making great progress: all is based on cooperation and enthusiasm. We work hard, but we have fun. We are always looking for people who share these values and our optimism.



What is a typical career path in IKEA?
There is no typical career at IKEA!
There are extraordinary opportunities for career and for growth at IKEA. We encourage employees to prove themselves in different roles: many, as a matter of fact, throughout their working lives, changejob and countryseveral times. You can choose your career according to your development plan and your future goals. All employees are given the opportunity to grow. Moreover, if you grow, IKEA grows too. To begin to grow with IKEA, look at our working areas and find out if there is a position that suits you.