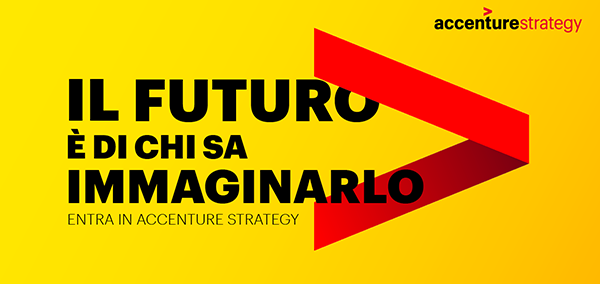 THE FUTURE BELONGS TO THOSE WHO CAN IMAGINE IT.
JOIN ACCENTURE STRATEGY.

In Accenture Strategy you can imagine a world that doesn't exist yet. Operating at the intersection of business and technology, dealing with business strategy, technology strategy or operations strategy, join us and drive value, shape new businesses and design operating models for the future.
Turn your imagination into action helping our clients generating recognized, differentiating value.
For our Milan office, we are looking for
STRATEGY ANALYST
New graduates in Business, Engineering, Mathematics, Computer Science


There is never a typical day at Accenture, but that's why people love it here! As a new Strategy Analyst, you'll test out new ideas with your teams and clients in your own unique way.

You will be involved in the creation, design and building of new business models,helping clients integrate and operate them. You will work with global companies leading them in the New by solving their biggest business challenges such as digital disruption, competitive agility, operating and business models, and future workforce.

Don't just follow the rules. Set them.